Wisconsin Meat Industry Hall of Fame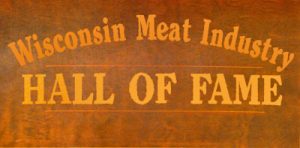 The Wisconsin Meat Industry Hall of Fame was established to recognize the contributions of individuals who have had a significant impact on the meat industry of Wisconsin. This contribution may be regarded as a business venture, an idea, a process or invention, an educational effort, a leadership role or any other effort which has influenced positively the people and environment of the state of Wisconsin. The accomplishment is broadly interpreted as related to the production, distribution and consumption of meat products.
The rationale for this effort is to compile a historical documentation of significant achievements and impacts of meat industry leaders and innovators that contributed to a strong and vibrant Wisconsin Meat Industry. The concept is to recognize, record and thereby ensure not only a lasting tribute but equally important to serve as a challenge for greater accomplishments in future generations.
Each year, a committee of academic and industrial leaders in the field solicits nominations for honorees. Those who are selected receive a plaque and their photograph and biography are placed in the Hall alongside the other distinguished Hall of Fame inductees.
This activity was the inspiration of Dr. Robert W. Bray, Professor of Meat and Animal Science, University of Wisconsin, from 1941 to 1984, and was initiated in January, 1993. The Wisconsin Meat Industry Hall of Fame resides at the University of Wisconsin-Madison Meat Science Laboratory; 1805 Linden Drive, Madison, WI 53706 (608-262-0463).
Due to public health concerns during the COVID-19 pandemic, we will not be holding the Wisconsin Meat Industry Hall of Fame event in 2020. We hope to resume this activity in 2021. Details regarding the event, as well as instructions for those who would like to nominate a Wisconsin meat industry leader or innovator for induction into the Hall of Fame, will be forthcoming.