Student Research Showcased @ RMC 2022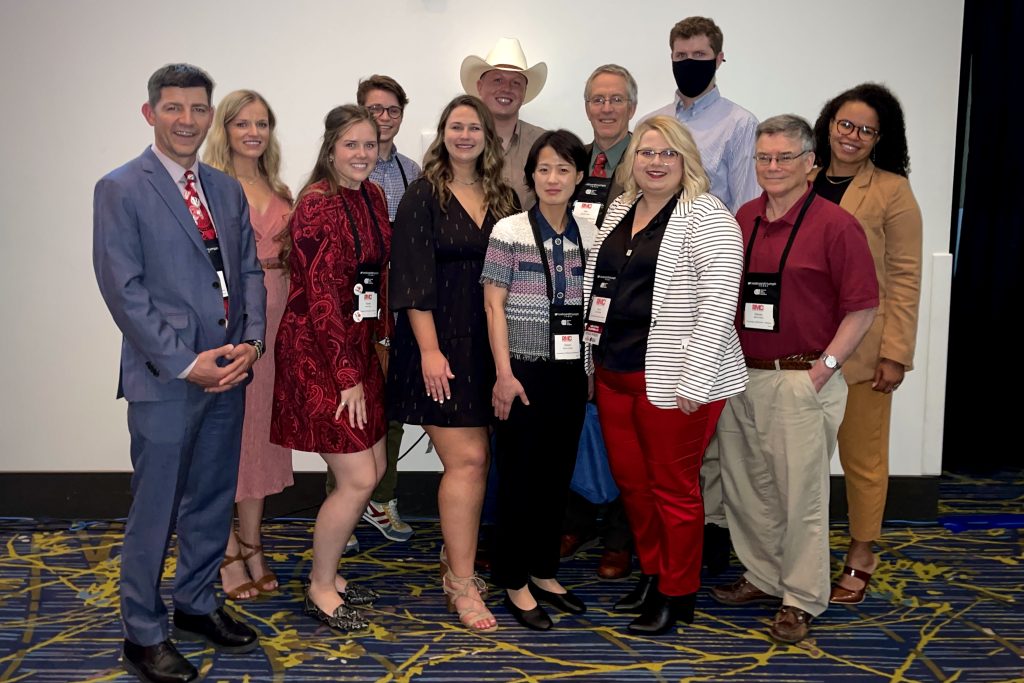 MSABD was well represented at the 75th Anniversary Reciprocal Meat Conference held June 12 – 15 in Des Moines, IA. In preparation, four MSABD faculty and their students submitted 10 abstracts. In all, six students plus postdoc Dana Dittoe presented 7 electronic e-posters representing all four faculty over five different poster sessions spanning two days. The e-posters and their presenters are listed below.
Influence of Carcass Vascular Rinsing with Bacteriophageor Peracetic Acid on Meat Quality from Salmonella Inoculated Goats (Adam Franzen)
Porcine Stunning Methods and Carcass Vascular Rinsing Effects on Meat Quality (Kaysie Allen)
Applications of a Short-Term Peracetic Acid Spray on Inoculated Beef Trim Reduces Key Foodborne Pathogens without Changing the Overall Microbiota Composition (Jessica Brown)
Effectiveness of Peracetic Acid as a Short-Duration Antimicrobial Spray to Mitigate Salmonella spp. and Campylobacter Jejuni while not Disrupting the Microbiota of Inoculated Poultry Thighs (Dana Dittoe)
Investigation of the Hemecrevice of Bovine and Trout IV Methemoglobin with Plasma Induced Modification of Biomolecules (Plimb) (James Whalin)
Effect of Fat Content on Salmonella Lethality on the Surface of Impingement-Cooked Pork Patties (Jordan Nehls)
Solvent Stabilizers Persist after Lipid Fractionation in Curing Unintended Antioxidant Activity in Muscle Systems (Sean Baker)
In addition, Dr. Richards presented Monday morning at the Oxidation of Muscle Proteins concurrent technical session with his talk titled "Myoglobin and Hemoglobin: Discoloration, Lipid Oxidation and Solvent Access to the Heme Pocket". Finally, MSABD ran a booth at RMC's Career and Networking Fair in Grand Ballroom A the first afternoon of RMC using the program's revamped tabletop display and tri-fold brochure, as well as edible samples from Bucky's Varsity Meats! Attendance was reported strong and many networking connections were made over the course of the conference. After taking the MSABD directorship, Dr. Ricke stated a goal of MSABD attending as many such events as possible to share what the program is working on.
This article was posted in
News
.