Dennis R. Buege Meat Science Scholarships Awarded at WAMP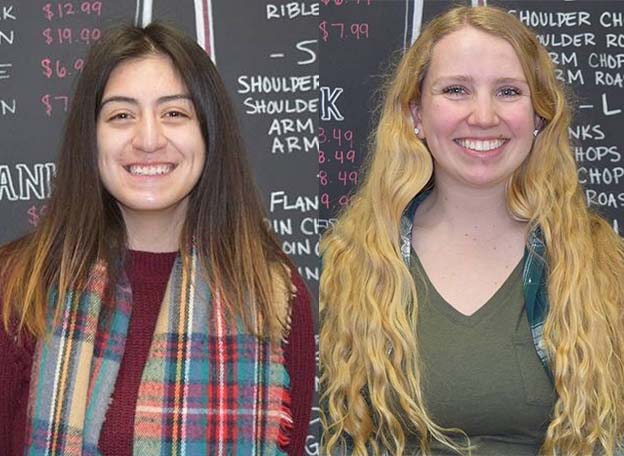 On Saturday April 6th, Debbie Machuca and Brooke Moore were recognized as being selected to receive a Dennis R. Buege Meat Science Scholarship. Each received a $1000 scholarship and a plaque during the Wisconsin Association of Meat Processor's Spring Convention banquet.
Recipient: Debbie N. Machuca (pictured left)
Debbie grew up in the inner city of Chicago.  She is a Dairy Science major at UW-Madison.   During the past 3.5 years, she has assisted with slaughter, fabrication, and processed meat manufacturing in Bucky's Butchery. She has been active in the Badger Meat Science Club.  Debbie has further demonstrated her interest in the meat industry by attending a number of conferences and trade shows (Reciprocal Meat Conference, AAMP, Processing Exposition). Debbie is particularly proud of having won the AAMP Reserve Grand Champion for her Spicy Summer Sausage. She interned at Jack Link's in New Glarus and has an internship planned at Johnsonville for this coming summer.  With assistance from Dr. Claus, Debbie wrote a proposal to the Cargill-Benevenga Undergraduate Research Scholarship program which was funded that enabled her to conduct research associated with assessing the chemical and physical properties of smoked, cooked boneless hams.  Debbie is currently at Wageningen University in the Netherlands studying abroad.  Debbie has maintained an impressive academic record and plans on pursuing a M.S. degree after she graduates.

Recipient: Brooke R. Moore (pictured right)
Brooke is a Food Science student at UW-Madison.  Impressively as a freshman in 2017, she started working in Bucky's Butchery and has been a real asset to the success of this student-run function associated with the Meat Science and Muscle Biology program.  Brooke has supported various operations including harvest, meat fabrication, and further meat processing.  She also helps assure compliance with the operation's sanitation procedures and HACCP requirements.  Brooke serves as the assistant store manager.  Brooke completed a management internship during the summer of 2018 with Cargill Value Added Protein in Butler, WI.  This summer she will be working for Tyson in Chicago as a Food Safety Quality Assurance intern.  She is active in the Food Science Club and Badger Meat Science Club. Recently she helped with the DFV/AAMP competition in which professionals from Germany judged ham and a variety of sausages.  Brooke grew up on her family's 150-cow dairy farm outside of Gratiot, WI. Brooke has always had a passion for agriculture which has continued during her time at UW.
This article was posted in
Program Features
.