Congrats to ARS award winner, Dan Schaefer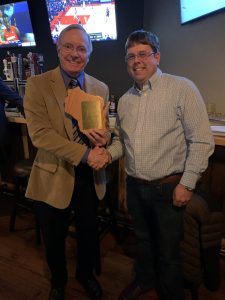 Dan Schaefer, recently retired from the Department of Animal Sciences, is an expert in beef cattle production systems, meat quality, ruminant nutrition and rumen microbiology. Since joining the faculty in 1981, he has conducted research projects in numerous areas of interest to the beef industry, including cow-calf management and nutrition; stocker rotational grazing; finishing Holstein steers; feedlot cattle nutrition and management; vitamin E and fresh beef color stability; and cattle health and welfare. He built a research program respected across the U.S. — in academia and industry.
Although not an Extension specialist, Schaefer maintained close working relationships county Extension agents and with the Wisconsin beef industry. These relationships helped guide his research efforts to make sure they were relevant to producers. Schaefer also taught throughout his career for undergraduate, graduate and short course students.
Over the years, Schaefer gladly took on many service roles. He served as department chair for over 15 years, interim CALS associate dean for academic affairs for 16 months, faculty supervisor for the Arlington and Lancaster beef herds, and, most recently, director of the Meat Science & Animal Biologics Discovery facility and program for two years.
Click here for the full recognition article. 
This article was posted in
Program Features
.