Animal Welfare Judging Contest Results
The University of Wisconsin sent two undergraduate teams to compete at the 19th annual International Animal Welfare Judging and Assessment Contest held November 22-24, 2019 at Colorado State University  in  Fort Collins, CO. Twenty five schools participated in the contest. The contest is divided into 3 sections: undergraduate, graduate and veterinary teams.  The teams hailed from across the US, Canada, Scotland, England  and Brazil. The students assessed the welfare of broiler chickens, African wild dogs in zoo settings, laboratory zebra fish and performed a live team assessment of sheep harvest.
Team 1: Atticus Clark, Sr., Amanda Gimenez, Jr. and Lindsay Conway, So., Team 2: Ethan Heinrichs, So., Kaitlin Reiman, Jr., Brianne Clarke Sr. (visiting student from the University of Sydney, Australia), and Sari Hattis, Sr.
Out of 22 undergraduate teams, UW Team 1 ranked 7th overall and UW Team 2 ranked 9th overall. Team 2 came in 2nd overall on the live team assessment portion of the contest. Atticus Clark was 3rd high scoring individual overall.
The team was coached by Terry Jobsis with the assistance of graduate students Kim Reuscher, Faith Baier, and Rekia Salter all of the Van Os lab. Special thanks to Ron Kean who graciously shared his knowledge of the broiler industry, Ryan Travena manager of the zebra fish colony – Pelegri lab Biochemistry  Department and Dr. Jeff Sindelar, Dillon Walker and Michael Whitty, Wisconsin state meat inspector for their help with the slaughter subject.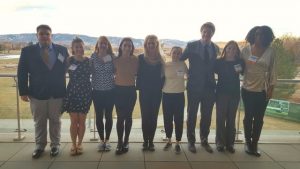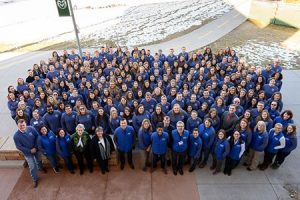 Picture L-R: Atticus Clark, Amanda Gimenez, Lindsay Conway, Bri Clarke, Kaitlin Reiman, Sari Hattis, Ethan Heinrichs, Faith Baier assistant coach, Rekia Salter assistant coach. (Not pictured: Terry Jobsis coach and Kim Reuscher assistant coach.)
This article was posted in
Program Features
.